Description
SEE BANNER AT TOP OF WEBSITE FOR CURRENT DELIVERY TIMES
The Gemini DX1200 Solid State Linear Amplifier will give 1200W CW output on 1.8-50MHz and 500W on 70MHz and is a Linear amplifier and so is suitable for all modes of operation – SSB/CW/RTTY/AM/FM/Data etc.
LOW IMD
The PA section uses a pair (yes two) LDMOS devices which are operated at reduced voltage and with higher than typical bias so achieve low IMD and still retain thermal efficiency.
INSTANT ON
And of course – being a Solid State Linear Amplifier there is no warm up. Turn on the mains and in 10 seconds it is ready to go! (and if powered up and on Stand By then when you turn it to ON it is instantaneous)
MULTIPLE ANTENNAS
The three SO239 antenna sockets on the rear are selectable by band (Ant A is direct through when the amplifier is switched off). There is one SO239 rig input socket. N-Type sockets can be specified as an option for any or all of the sockets.
AUTO BAND SELECTION
No CAT interface to your rig is required as the DX1200 has fully automatic band switching so no extra cables required. It will also work fine with any rig even if it has no CAT interface.
FULL QSK
A quiet vacuum relay for output switching enables the DX1200 to give reliable full QSK operation (at >40 wpm) at full output.
TOUCH SCREEN
A full colour touch screen display shows output parameters and is used to set up the antenna selection and other operating parameters. The screen has selectable colour options including high contrast green on black or pastel blue on white.
REMOTE CONTROL
Full remote operation is possible via network using the software that is supplied free of charge (see link at the bottom of the page). This mimics all functionality of the amplifier (excluding mains power switching) and incorporates Omni-Rig interfacing and audible voice commands for visually impaired operators.
QUIET
Cooling – The Gemini DX1200 uses a high surface area heatsink that occupies nearly half the volume of the entire amplifier and a huge 10mm thick copper spreader to dissipate heat. The main fan used is just 28.6dB(A) and is proportionally temperature controlled so heat is removed quietly and efficiently – this makes the DX1200 really very quiet in operation.
The DX1200 has High, Medium and Low power operating modes. These alter the Vdd (drain voltage) level and so allow much greater thermal efficiency at lower outputs – something else you can only do with a Solid State Linear Amplifier.
The integral power supply allows automatic operation from 100-260V 50/60Hz so can be used worldwide (with just a fuse change needed, nothing else).
COMPACT SIZE
DX1200 is small – just 278mm wide, 157mm high and 380mm deep (excluding feet and rear projections) and with 15.5Kg weight is manageable easily for portable and DXpedition use as well as in the shack.
A +10dBm (at 1000W) rear panel SMA output is provided for pre-distortion or scope monitoring.
Finished in satin black the all aluminium chassis helps keep weight to a minimum whilst retaining strength (the front panel is 3mm material for instance).
Drive level as standard is 50W for full output making is compatible with most rigs. We can optionally supply the DX1200 configured for 10W or 25W drive.
Read all about the DX1200 Solid State Linear Amplifier in use at G9Y CQWW CQ Nov 2019 (click image to open PDF copy in new window):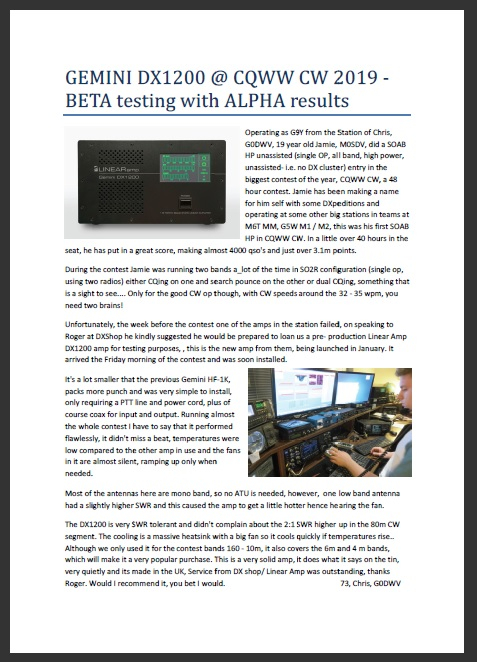 SPECIFICATIONS:
Valid operating frequencies:
1.8 – 2.0MHz
3.5 – 4MHz
5.0 – 5.5MHz
7.0 – 7.3MHz
10.1 – 10.2MHz
14.0 – 14.4MHz
18.0 – 18.2MHz
21.0 – 21.5MHz
24.8 – 25.0MHz
28.0 – 29.7MHz
50.0 – 54.0MHz
70.0 – 72MHz
Power output            :          >1.2 kW at P1dB (500W on 70MHz)
Power input:                         10,25, 50W customer specified
3rd order IMD distortion:      better than -30dB at 1kW
11th order IMD distortion:    better than -70dB at 1kW
Harmonic suppression:      better than 60dB (all harmonic products) (50dB on 50/70MHz)
Input VSWR:                         better than 1.5:1
Load VSWR tolerance:       Max 2.0:1 high VSWR trip (we recommend use of an external ATU above 1.5:1)
For firmware updates and remote software download please click HERE