Description
The PowAbeam 70Mhz 5 element is an ultra-lightweight and low profile high gain optimised design that uses 3/16″ solid rod for the parasitic elements and 5/8″ tube for the PowAbeam coaxial dipole driven element. (an all 5/8″ element option using Stuaff Clamps is also available at the same price – please specify when ordering)
The aerial is supplied requiring assembly only – no drilling required.
Pre-drilled round boom section(s) with machined joining sleeves (if required)
Paraclip element clips pre-attached to the boom – the elements just need sliding into place
Assembled PowAbeam coaxial dipole with 1m Ecoflex10 coaxial cable terminated in an in-line N-Type socket.
Assembly will take about 10 minutes and requires insertion of the parasitic elements into the clips (each are clearly marked) and mounting of the coaxial dipole (joining of the boom sections may also be needed if the boom is supplied in sections). A 10mm spanner or socket and a 4mm allen key are all that is required.
See what one customer says about this antenna:
Just thought I would drop you a note after using the new 4m beam in VHF Field Day a couple of weekends ago. It went together in around 10 minutes, some of that was being slow because it was such a warm day!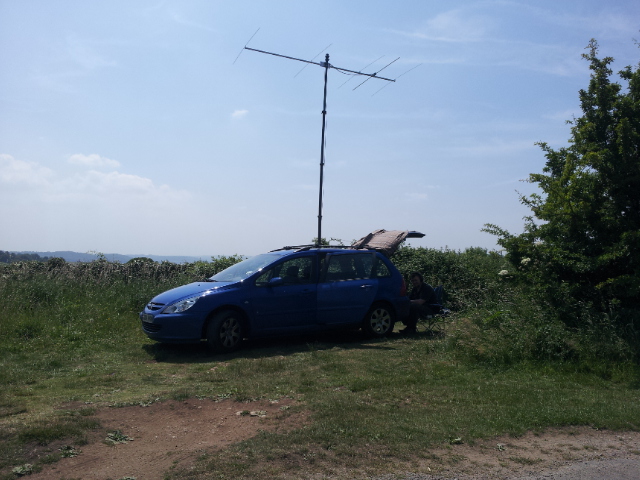 I installed it on my 8m Racal push up- mast on a drive-on plate. I did not extend to full height as I only needed to clear the car and a small number of local obstructions. I worked 36 in around 4 hours of operating and was very impressed, worked plenty of GM and GI, an EI and a GJ, plus plenty of spread across the rest of the UK.
All in all I am very impressed with it, if only I had room to install it at home!
I've attached a photo of it in action. I will certainly be confident to recommend powabeams 🙂
M0PCB